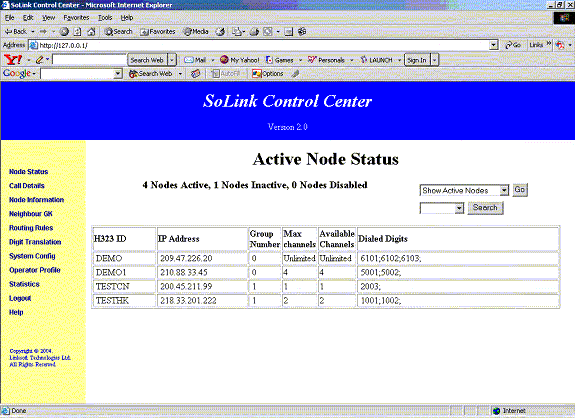 Linksoft's SoLink Control Server is a feature-rich, Windows-based H.323 gatekeeper (version 4 compliant) offering centralized call management, addressing, security and accounting functions for any H.323 compliant IP telephony network. With the SoLink Control Server, network managers can configure and mange the operation of various H.323-based devices, including gateways (such as Cisco, Antek and Quintum), terminals (such as NetMeeting), IP-phones, soft-phones, and other multimedia devices. The software is pre-configured with the most commonly used options. There is little or no configuration required for basic operation. To learn more about the
H.323 Gatekeeper
technology,
click here
.
Some applications of the SoLink Control Server include:
Telecom service providers may use the SoLink Control Server to provide standard H.323 Gatekeeper functions, such as call authorization, call routing and billing, for their VoIP network.
Corporations may use it to facilitate the inter- and/or intra-office communication. This is particularly useful for corporations with geographically dispersed offices. By setting up VoIP gateways at each premise and using the SoLink Control Server to manage the routing and dialing scheme of various gateways, a corporation can significantly reduce its long distance cost.
Real estate developers may use the technology to build Intelligent Buildings. By installing a web-phone (i.e. a video phone with web-browsing/email/calendaring capabilities) at each flat, with the SoLink Control Server and VoIP gateways at the back-end, developers can provide an integrated communication service to their residents.
Virtual call centers with a large array of geographically dispersed, part-time agents with varying skills may use the VoIP technology to provide 7/24 service to their customers. By routing calls to logged on agents with the proper skill-set (e.g. a French-speaking family physican), corporations can set up worldwide call centers with highly skilful agents.
The SoLink Control Server provides the following functions:
admission control
- controls whether H.323 devices are allowed to make calls. The authorization check can be done on the device's H323 ID alone, or both the H323 ID and IP address.
address translation
- translates a phone number to the transport address of the destination device
zone management
- performs managment functions within its zone
alias address modification / dialed digit translation
- translates a phone number into a format recognizable by the destination gateway. A common use involves translating a toll-free number, hot-line, or virutal extension into the actual phone number or extension.
call control signaling
- support direct-route or gatekeeper-route mode.
call authorization
- authorizes call request based on a number of criteria such as destination number and resources available at destination.
neighbour gatekeeper support
- support gatekeeper-to-gatekeeper communication.
call logging
- provides call logs for accounting or billing purpose
- support H.323 usage reporting capabilites
endpoint grouping
- provides closed user group functionalities among related endpoints
dynamic call routing
- directs calls to the desired device. Up to 3 alternative routes may be specified.
multiple, non-standard port support
- support multiple, standard or non-standard RAS ports. This feature is useful for bypassing ISP blockage or for enhanced security purpose.
database integration
- can interface to Microsoft Access, Microsoft SQL Server, MSDE (Microsoft Desktop Database Engine) or other ODBC compliant databases
management reporting
- provide statistical reports for planning purpose
web-based interface
- provide remote administration capability through the Internet
To obtain a 20-day Free-Trial of the SoLink Control Server, click . (Version 2.2 now available!!)
P/N
Description
Price
(in USD)
Price
(in HKD)
CS-5B
Base Software with 5 user licenses

$70.00

$546.00

CS-20B
Base Software with 20 user licenses

$120.00

$936.00

CS-50B
Base Software with 50 user licenses

$220.00

$1716.00

CS-100B
Base Software with 100 user licenses

$320.00

$2496.00

CS-999B
Base Software with unlimited user licenses

$420.00

$3276.00

CS-20U
20 user license upgrade

$100.00

$780.00

CS-50U
50 user license upgrade

$200.00

$1560.00

CS-100U
100 user license upgrade

$300.00

$2340.00

CS-999U
Unlimited user license upgrade

$400.00

$3120.00
Please send an email to
sales@linksoft.com.hk
for further enquiries.